Welcome to
Our Lady of Lourdes
Please join us for our second annual Cultura event, taking place TONIGHT on December 2 at 7 PM in the church. This time we will be focusing on the beauty of music with a string quartet and a special talk. Drinks and desserts will be served in the narthex afterward. We hope to see you there!

We are finalizing the Parish Directory before it goes to print and need your help. If you have moved or need to update your contact information, please call the parish office. If you do not want your information shared in the directory, you can also call the parish office at 303-722-6861 and we will be happy to remove you from the list. Thank you!

The Christmas by Lourdes Silent Auction is up and running and will continue until Saturday, December 4, at 8 PM. Visit the auction website now to preview the items and get registered so you're all set to start bidding when it opens. New items are being added all the time, so check back often. All proceeds from the Silent Auction benefit Our Lady of Lourdes Catholic Classical School.  Your generosity helps make Catholic Education possible for our families!

High School Youth Group Retreat: December 3-5. The High School Youth Group is going on retreat to the YMCA Snow Mountain Ranch December 3-5. Cost is $150 per student. Register here.

We are hiring! Our Lady of Lourdes is seeking a Manager of our Janitorial Department. This position is available for an immediate start date for training. Our Lady of Lourdes Parish recently began oversight of St. Louis Parish 1.2 miles away where our South Campus for the school is located. This position includes managing the cleaning company and janitorial needs of both parishes and school campuses. Please see the full job description here. Email vanderweele@lourdesclassical.org to submit your resume and cover letter.

Weekly Confession schedule updates
We are happy to announce that confession has returned to Sunday evenings, from 5–5:45 PM. Confessions continue to be offered Saturday mornings from 8–10 AM, as well. Please note: We will not have Confession available following the Monday 8 AM Mass, starting in October.

The Lourdes Respect Life Ministry team is hosting a weekly day of prayer on Fridays at a nearby abortion facility. Join us every Friday for a day of peaceful prayer at Healthy Futures, 300 E Hampden Ave, Englewood, CO 80113. "Healthy Futures" is a surgical abortion facility located just two blocks from our school's south campus. Beginning in October, we will be hosting a Rosary and Chaplet of Divine Mercy every Friday at 1:45 PM. Please read this Statement of Peace to familiarize yourself with our approach during this time. If you have any questions, please email respectlife@lourdesdenver.org.

Parish office hours now later on Wednesdays
Lourdes parish office hours are now from 11 AM–6 PM on Wednesdays. Thank you for your flexibility!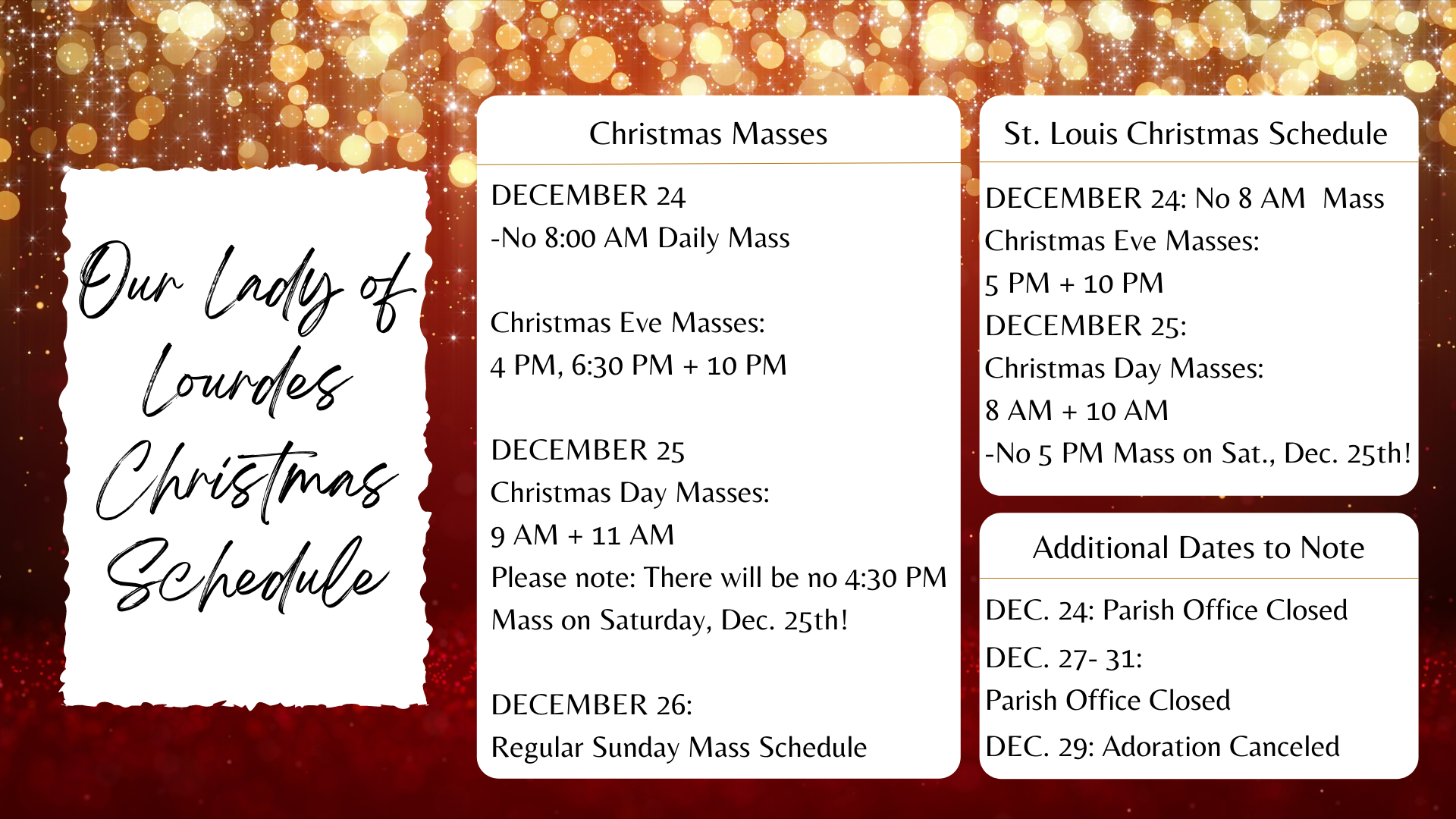 Keep up with all the news at Lourdes! Sign up for Flocknote today.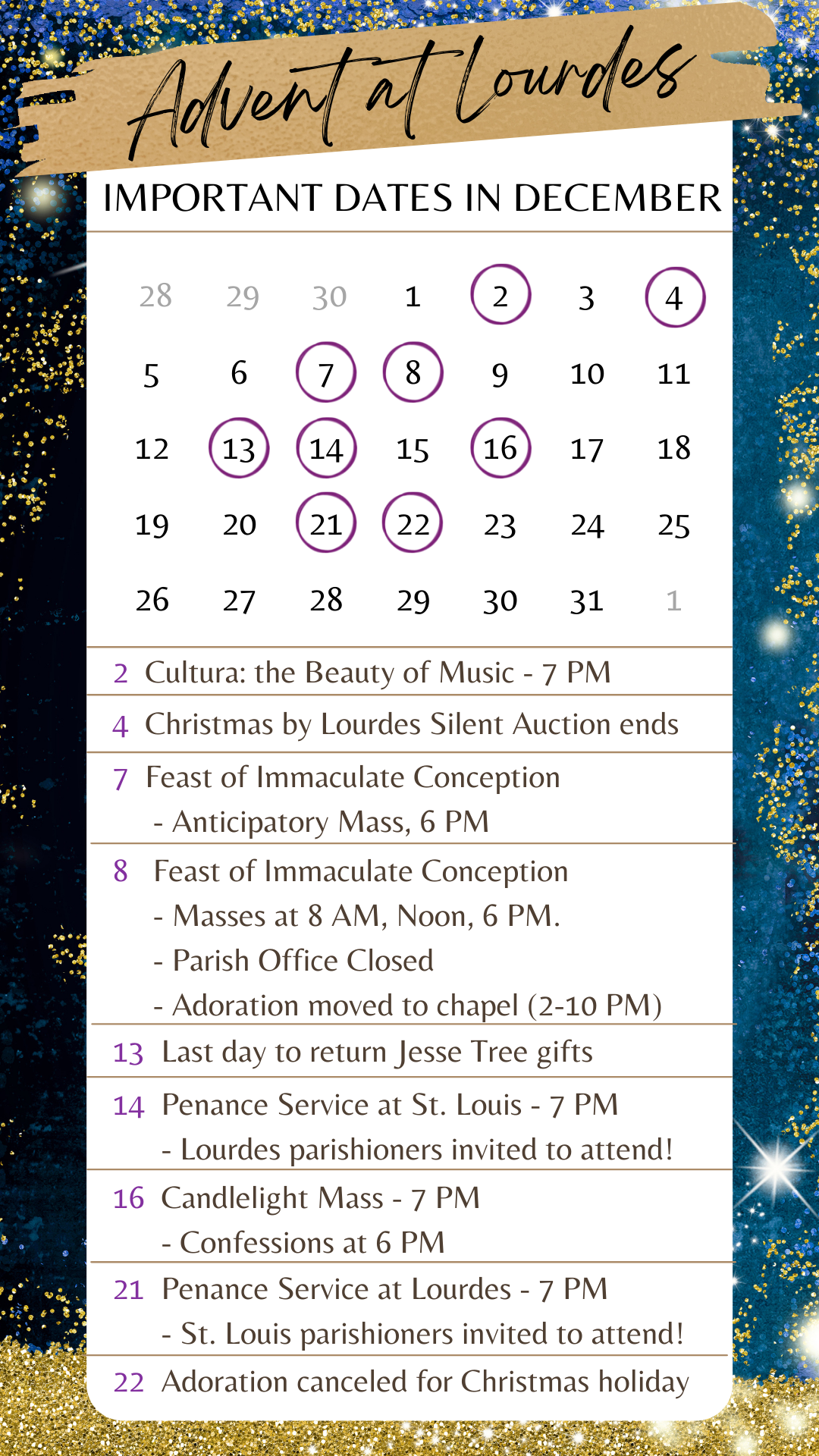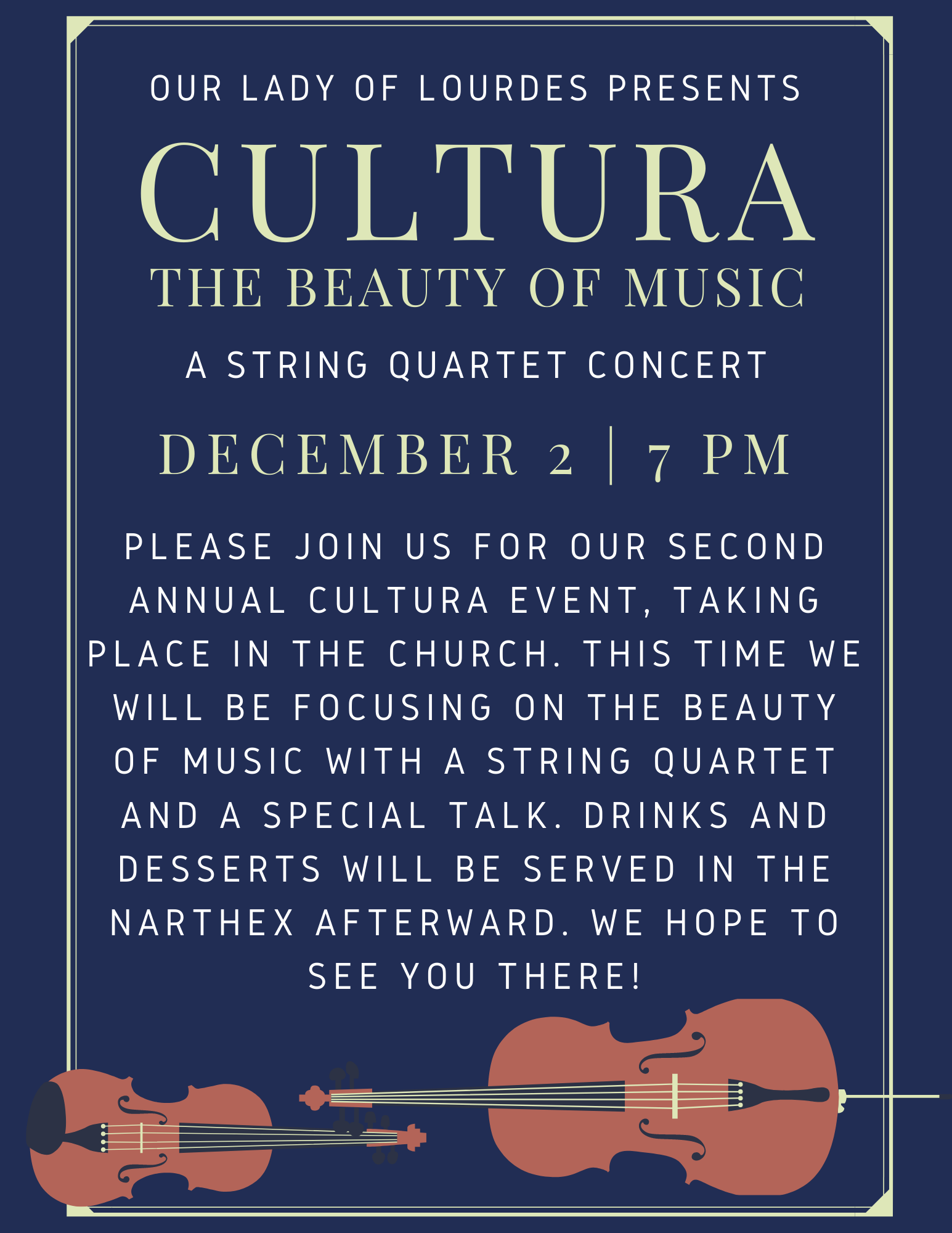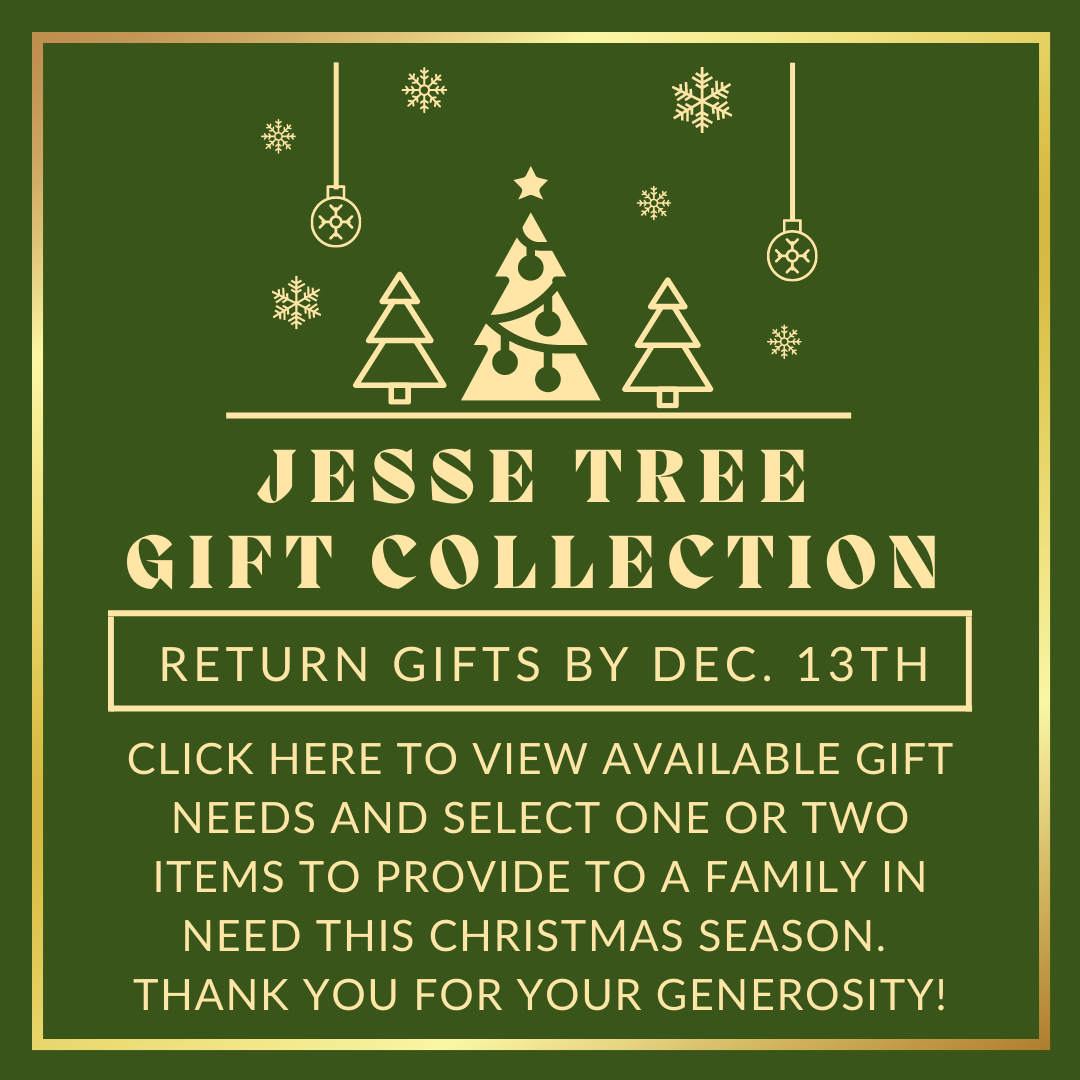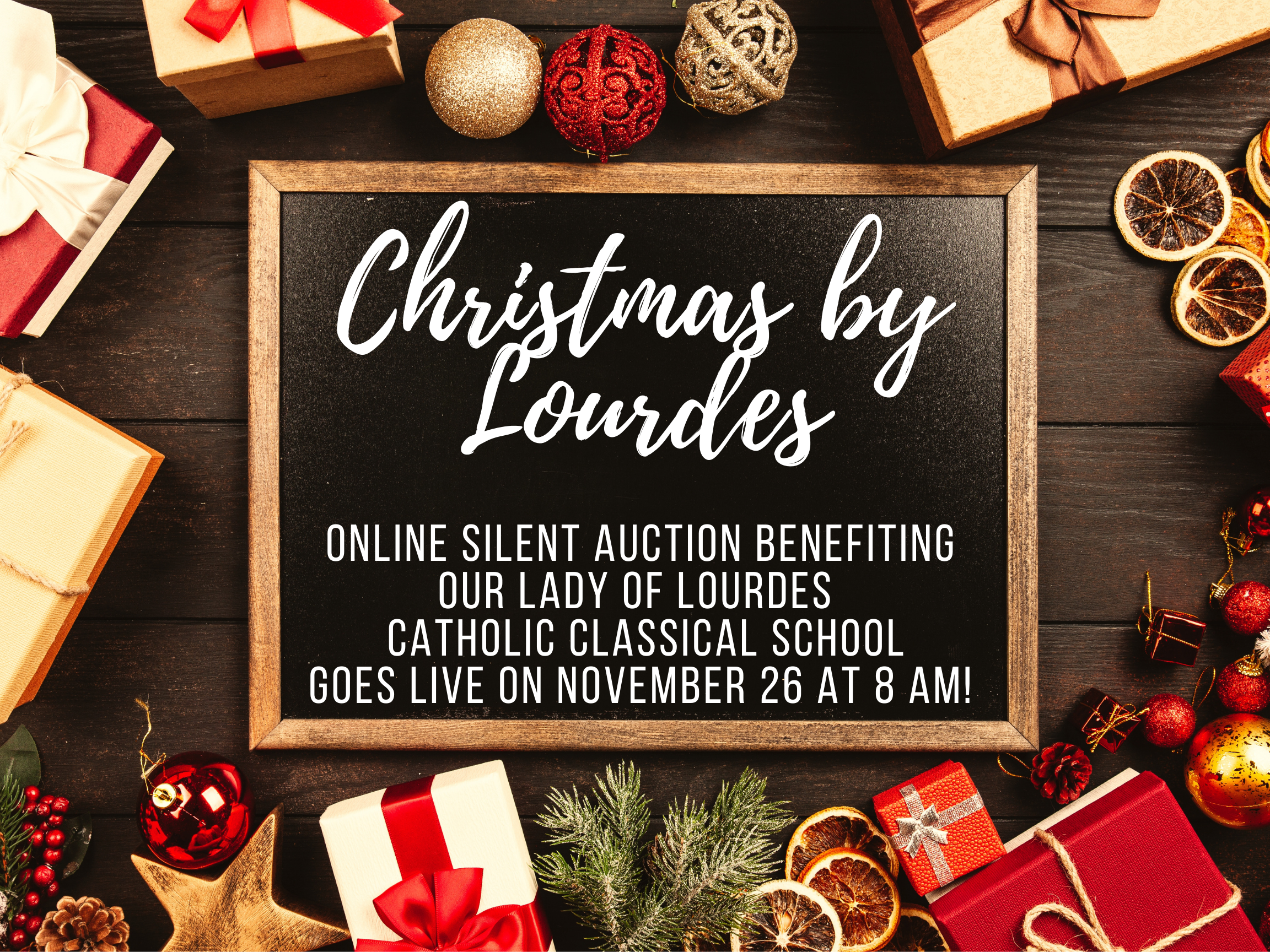 The Gift of Awe: Fr. Brian's Homily for Sunday, November 28
Catch up on Fr. Brian's most recent homily from the First Sunday of Advent on November 28, 2021.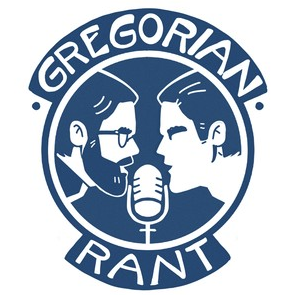 Subscribe to our YouTube page for at-home participation on Sundays, and to watch our videos anytime!
Sunday
8 AM | 10 AM (livestreamed) | 12 PM |  & 6 PM
Monday–Friday
8 AM
Saturday (Anticipatory)
4:30 PM
Confession Times
Weekdays | 8:30 AM EXCEPT on Mondays
Saturday | 8–10 AM
Sunday | 5-5:45 PM
Other Mass & Confession Information
Weekday Confession after 8 AM Mass has resumed, EXCEPT Mondays
We are no longer offering Communion after Mass on Saturdays or Sundays. Sorry for any inconvenience!
Sunday confessions will resume September 5 at 5 PM!
2298 South Logan St. Denver, CO 80210
Fax 303.722.4810
Parish Office  & Parish Mailing Address
2200 South Logan St. Denver, CO 80210
Monday – Thursday
9 AM – 5 PM
Friday
9 AM – 12 PM
Sign up for Flocknote and help our parish communicate announcements and updates in a way that is efficient for us and convenient for you.