Welcome to
Our Lady of Lourdes
July Announcements:
Weekly Saturday Mass at 4:30 PM resumed July 11th.

We are still offering Communion via car line, in combination with livestreamed Mass on Sundays, from noon to 1:00 PM (subject to change)

Sunday confessions to come. Stay tuned! (Apologies for the miscommunication about July 12th)!
Dear Lourdes Parishioners—
We are enjoying your presence back to the pews! In preparation for the opening of limited public Masses at Our Lady of Lourdes, please read the following information so that you know how to register to attend a Mass, what to expect when you arrive, and how you can best help make this as safe and accessible as possible. Please bear in mind that information is subject to change as the Archdiocese and state authorities provide additional guidance.
REGISTERING TO ATTEND MASS
We are able to welcome 100 people into the church for each Mass (which includes everyone in the church, including lectors, Eucharistic Ministers, etc.). This attendance number has been known to change, based on further guidance from the state public health department.
We will have three Sunday Masses (10 AM, noon, and 6 PM, MST), an anticipatory Saturday Mass, at 4:30 PM, and weekday Masses, Wednesday through Friday at 8 AM, MST.
Tuesday 8 AM Masses are reserved for those 65 and older.
You MUST register ahead of time to be admitted to Mass on Saturdays and Sundays. No walk-ins will be accommodated.
Sign up for Mass through this online form. Please include your name, and each person's name who will be in attendance with you, so we do not exceed our maximum capacity. Please call the parish office at 303.722.6861 with any registration questions.
You will not be able to register for more than one (1) Sunday Mass at a time to allow everyone to have a chance to attend in person.
A dispensation from the Sunday Mass and Holy Day obligation remains in effect until further notice.
Please note: we will still be offering outdoor Communion (via car line) on Sundays from 12–1 PM, following the livestreamed Mass at 10 AM. This is meant to be celebrated in combination with a virtual viewing of the Mass.
SAFETY REQUIREMENTS
*Everyone* will be required to wear a face mask while in attendance at Mass, except any children aged 2 and younger.
In-person Mass is strongly discouraged for anyone who has a higher risk of severe illness due to COVID-19 (those who are 65 years and older, with chronic lung disease, serious heart conditions, diabetes, liver disease, kidney disease, cancer, or those who are immunocompromised or undergoing chemotherapy, etc.) and instead are encouraged to participate in the 10 AM livestream Sunday Mass.
It is of utmost importance that you maintain 6 feet of distance around you and your family members, both while entering and exiting the church while sitting in designated pews, and while processing in the Communion line.
Bathrooms will only be available for emergencies, so please plan accordingly.
Hand sanitizer will be available at the doors and we encourage its frequent use.
Please receive Communion by HAND, ONLY, and step six feet away before you remove your mask to receive Communion. Thank you for respecting those around you.
WHAT TO EXPECT AT MASS
Register for Mass ahead of time.
Arrive 15 minutes before Mass to get checked in and find a seat.
A number of pews have been roped off to help facilitate appropriate distancing between people. Please seat your family at least 6 feet away from other groups (members of the same family unit do not need to be distanced within their group).
There will be clearly labeled entry and exit doors, and we ask that you closely follow the established flow of traffic.
Allow 6 feet of separation between you and other attendees as you enter and exit the church.
No food or drinks will be allowed in the church.
No worship aids will be available in the church (missals, song sheets, etc.). Feel free to bring your own Bible or missal, but please keep it with you.
Ushers will be passing a long-handled offertory basket at this time, to limit the amount of physical contact between parishioners and support staff. You can still send a check to the parish office with your weekly offertory, or you can sign up for online donations at lourdesdenver.org/donate.
Please disperse promptly, after Mass. We will not be able to congregate in groups before or after Mass. This will also help give the maintenance staff ample time to sanitize everything thoroughly between Masses.
Thank you for your help!
Traffic Flow for Mass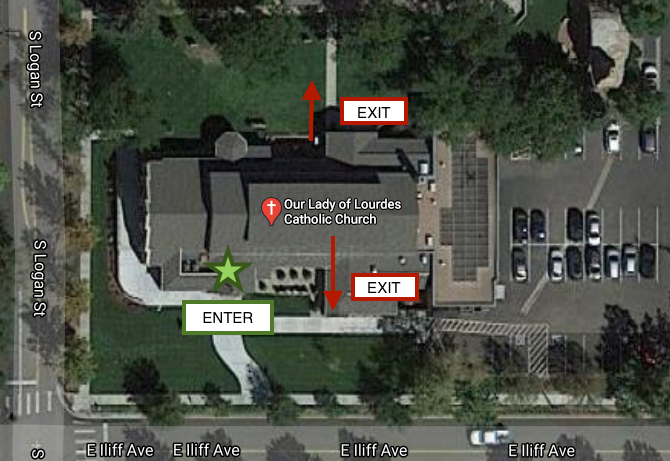 Communion, Mass, & Confession Times
Parish Office and Mass Times for the 4th of July Weekend:
Parish offices will be closed, and no Mass will be offered on July 3rd. Sorry for the inconvenience!

No confessions or Mass will be held this Saturday, July 4th.

We will welcome a guest priest from Unbound on Sunday, July 5th. Please prayerfully consider a scholarship donation to help elderly and youth of the Unbound mission, here. 

Weekly Saturday Mass at 4:30 PM will resume July 11th.

We are still offering Communion via car line, in combination with livestreamed Mass on Sundays, from Noon–1:00 PM (subject to change)

Sunday confessions to come. Stay tuned! (Apologies for the miscommunication about July 12th)!
Parish Cancellations per Archdiocese of Denver
All weekday confessions, Adoration, and parish events are canceled until further notice, per the Archdiocese of Denver. Saturday confessions, 8–10 AM, still in effect in gym. PLEASE STAND 6 FEET APART WHILE WAITING.**
Sunday
10 AM, MST | Mass Livestream | Communion procession to follow | Please stay in your car | Enter parking lot from Warren; exit on Iliff | 12–1 PM, only
Tuesday
8 AM, MST | Time slots reserved for parishioners 65 and older
Wednesday–Friday
8 AM | Open to all who register ahead of time (see link above)
Saturday Confessions
8–10 AM | Gym | **Please stand 6 feet apart to abide by social distancing guidelines.**
Communion Procession Guidelines
Please first watch one of our livestream Masses before you come to receive Communion. We will be offering Communion via car line on Sundays from 12–1 PM, Tuesdays from noon–1 PM, and Thursdays from 5–6 PM. Here is the map of the one-way route to receive Communion (Warren St. entrance to Iliff Ave. exit).
Please do not line up early; we cannot congest streets and inconvenience our neighbors. We anticipate that this will be ample time to serve all our parishioners. Thank you!
Please receive by HAND, only, at this time. Also, there will be no distribution of the Precious Blood at this time.
An EMHC or priest will rotate around your car to distribute the Holy Eucharist to all recipients, appropriately.
Do not leave your car at any time, or wander the Lourdes campus for any reason—not even bathroom breaks. We must adhere to these guidelines, which are enforced by law.
**Please stay home if you are sick,** or have any risk factors for COVID-19 (you are 65 or older, or have a compromised or suppressed immune system, diabetes, heart disease, lung disease, blood clotting factors, or any other risky health conditions). 
Please pay attention to our directional volunteers whose purpose is to keep traffic flowing smoothly.
2298 South Logan St. Denver, CO 80210
Fax 303.722.4810
Parish Office  & Parish Mailing Address
2200 South Logan St. Denver, CO 80210
Monday – Thursday
9 AM – 5 PM
Friday
9 AM – 12 PM
Sign up for Flocknote and help our parish communicate announcements and updates in a way that is efficient for us and convenient for you.