Parish grounds are purchased by Archbishop Urban J. Vehr on February 24, 1947.
Many Lourdes' parish families consisted of WWII vets.
First Pastor Reverend Damen L. McCaddon is acquired–also known as "Father Mac"–an avid outdoorsman who organizes regular camping and ski trips for the young parishioners.
Fr. McCaddon works with parishioners to plant trees, and transform the spacious parish grounds into a retreat oasis, complete with outdoor stations of the cross.
The Sisters of St. Francis of Perpetual Devotion initiate Sunday school.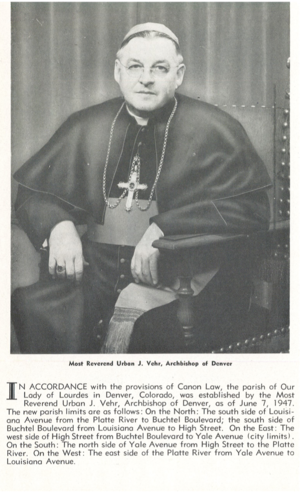 "Father McCaddon had been an army chaplain and loved the great outdoors. He had us school kids camping on the church property during the 1950s in a stockade-like area. Most kids liked it. I hated it. Green eggs full of sand in the morning. It's stupid to leave a comfortable bed to sleep on the ground, even if we did get to watch Hopalong Cassidy movies."
 Famous Denver historian, writer, and longtime chair of the history department at Metropolitan State college, 1987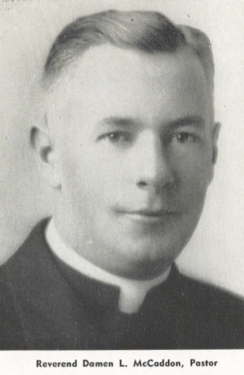 Construction begins for new $150,000 Church and school combination building.
First four classrooms completed. Sisters of St. Francis of Perpetual Adoration convinced 101 students to attend Saturday classes to make up for lost time.
Library, basement (now McCaddon Hall), and offices were completed  for Archbishop Behr's dedication ceremony.
Christmas Day, more than 1,650 people attend Mass in the new subterranean church.
A group of 200 male volunteers, known as the "Rocks" of Lourdes, build the massive, 52-foot-high stone shrine and outdoor altar (Grotto) from the ground up.
Funding arises from Rocks-sponsored events, such as picnics, bingo games, Sunday breakfasts, dances, harvest parties, bazaars and Mardi Gras galas. Initial gala raises a $5,000 net profit, which purchased the house at 2218 S. Logan as a temporary rectory and meeting place.
The Archbishop celebrated Solemn High Mass with 50 priests in what is now known as the cafeteria of McCaddon Hall.
Holy Ghost Catholic Church donates the cross that adorns the top of the Grotto.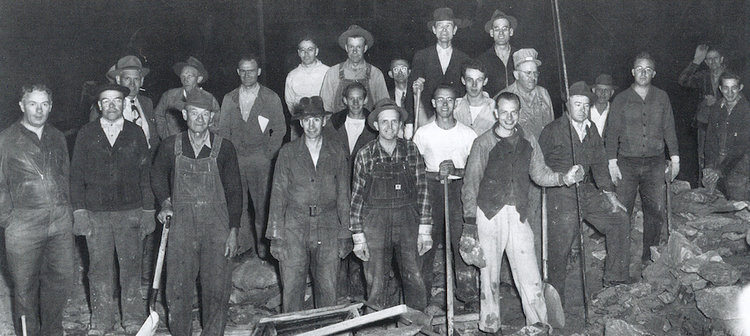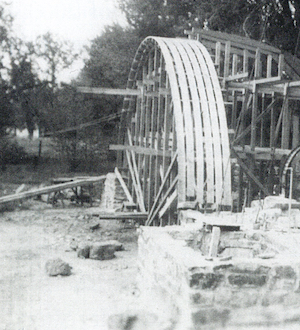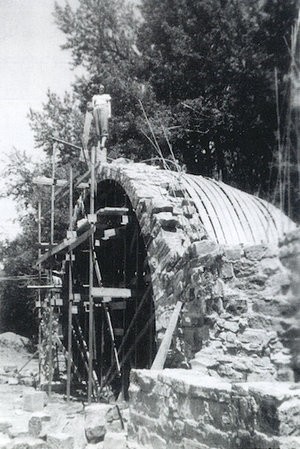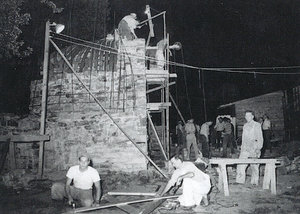 Altar & Rosary Society arises, composed of 80 women.
Holy Name Society also develops, composed solely of men.
8th grade classroom is added.
5th–7th grade classrooms are added in new school wing.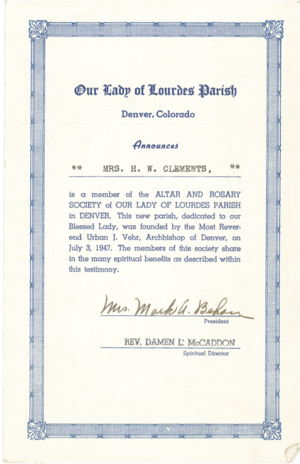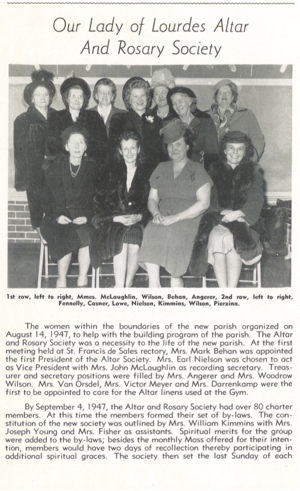 First 8th grade class graduates.
Stations of the Cross are donated.
By 1954, just 7 nuns teach 384 students spanning grades kindergarten through 8th!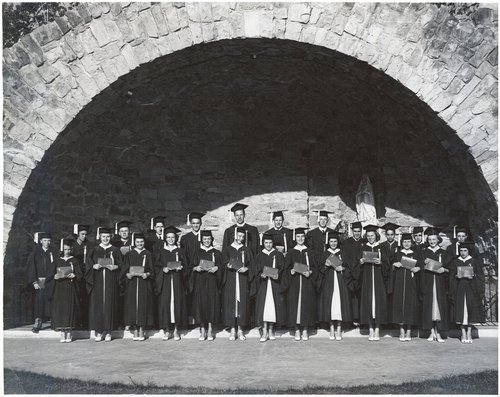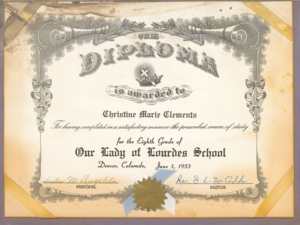 Convent (now the seminary house) is built for the sisters, after they were chauffeured each day.
Present-day rectory purchased for $13,000 (this equates to $107,000 when adjusted for inflation).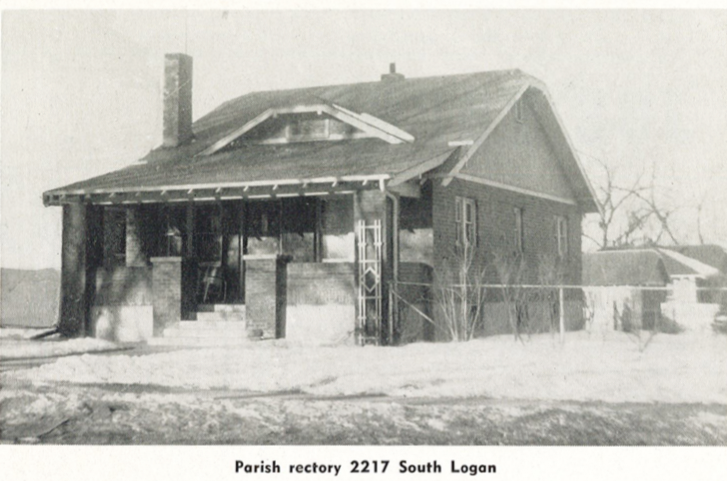 Lourdes Outdoor Club and Prayer Park. Sculpture of St. Francis in the background.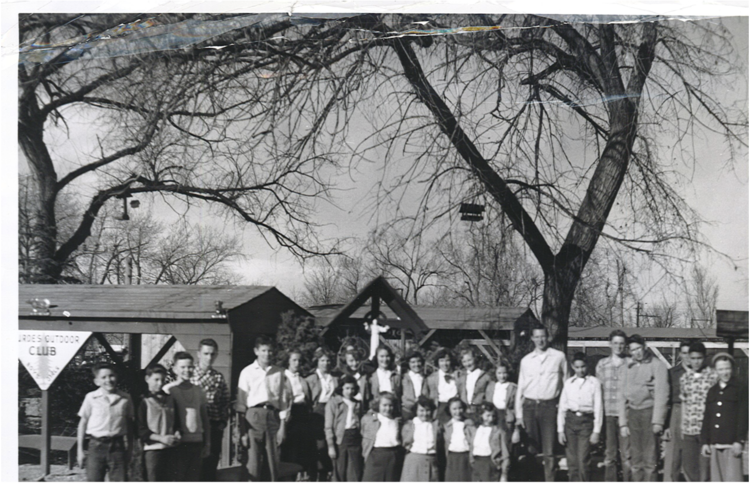 Second shrine and prayer park, complete with St. Francis sculpture, grass, and trees, is completed.
Church is built over the top of the basement church.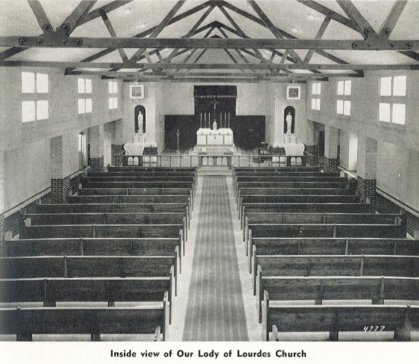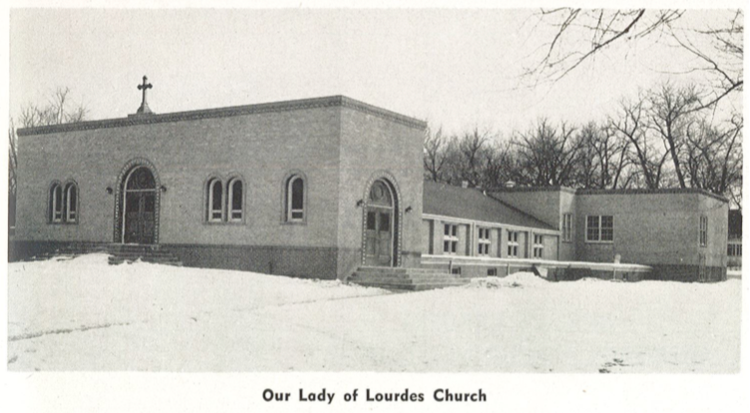 Church construction is completed on May 6th. Masses are moved out of the basement, and into the new church.
Archbishop Vehr presides at the highly anticipated church dedication. He blesses a neo-Romanesque, buff brick structure designed by John K. Monroe.
Fr. McCaddon retires on November 28, after spending 19 years on the foundation and development of Lourdes. Since Fr. McCaddon, ten more priests have led Our Lady of Lourdes parish: Fr. Robert Kekeisn (1996), Fr. Robert Harrington (1972), Fr. Joseph Lievens (1973), Fr. George Weibel (1985), Fr. John Barone (1992), Fr. David Blue Jacket (1994), Fr. Robert Fisher (1997), Fr. Frank Lomica (2004), Msgr. Peter Quang (2008), and presently, Fr. Brian Larkin (2014).
Convent (current seminary house) is converted into a home for the elderly, known as Maryhaven.
School enrollment drops to 92 children.
Kindergarten and after-school program added.
Stained glass windows project ensues.
Surge in new families occurs throughout the '90s, which increases school enrollment to more than 200 students
Three additional classrooms are donated by former teacher, Sarah Greason.
Present-day seminary house becomes Center for Contemplative Learning.
Ground breaking for new gym, art, and music rooms begins.
School almost forced to close because of critically low enrollment rates.
Msgr. Quang is assigned to Lourdes in an attempt to revive Our Lady of Lourdes Catholic parish and school. Rosemary Anderson is hired to begin a Classical Curriculum at Lourdes, and enrollment begins to turn around.
Fr. Brian is assigned to Lourdes. Lourdes Mass attendance doubles and Lourdes Catholic Classical enrollment numbers bounce back.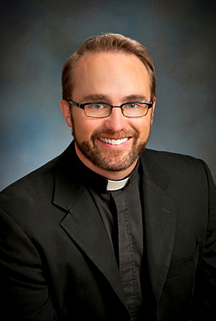 Capital Campaign for Phase 1 of Our Lady of Lourdes Catholic Church expansion begins.
Lourdes Catholic Classical gains national recognition, and school is now at maximum capacity, with an extensive waiting list, with Principal Rosemary Vander Weele (Anderson) at the helm.
Lourdes welcomes new deacon, Deacon Darell Nepil, of Littleton, Colorado.
Parish staff grows to ten employees.
Stewardship program begins, and number of registered parishioners surpasses 1,000.
Lourdes becomes nationally recognized by Our Sunday Visitor as a thriving parish for various events, such as Gatherings at the Grotto, Pint with a Priest, and others.
Lourdes Catholic Classical also gains national recognition, with an award for Commitment to Classical Education by the Center for Natural Law, and Lourdes Catholic Classical Principal Rosemary Anderson, is honored with the "Dr. John J. Carrigg Award" by her alma mater Franciscan University of Steubenville.
Ground breaking begins for the new church expansion.
Lourdes Catholic Classical announces the formulation of a south campus, for grades K-2nd at St. Louis' school property, following the closing of St. Louis School in 2017.